Is it necessary to do a "risk assessment" on the mortar tubs to comply with your Health & Safety on site requirements and avoid insurance Claims?
01th Sep 2021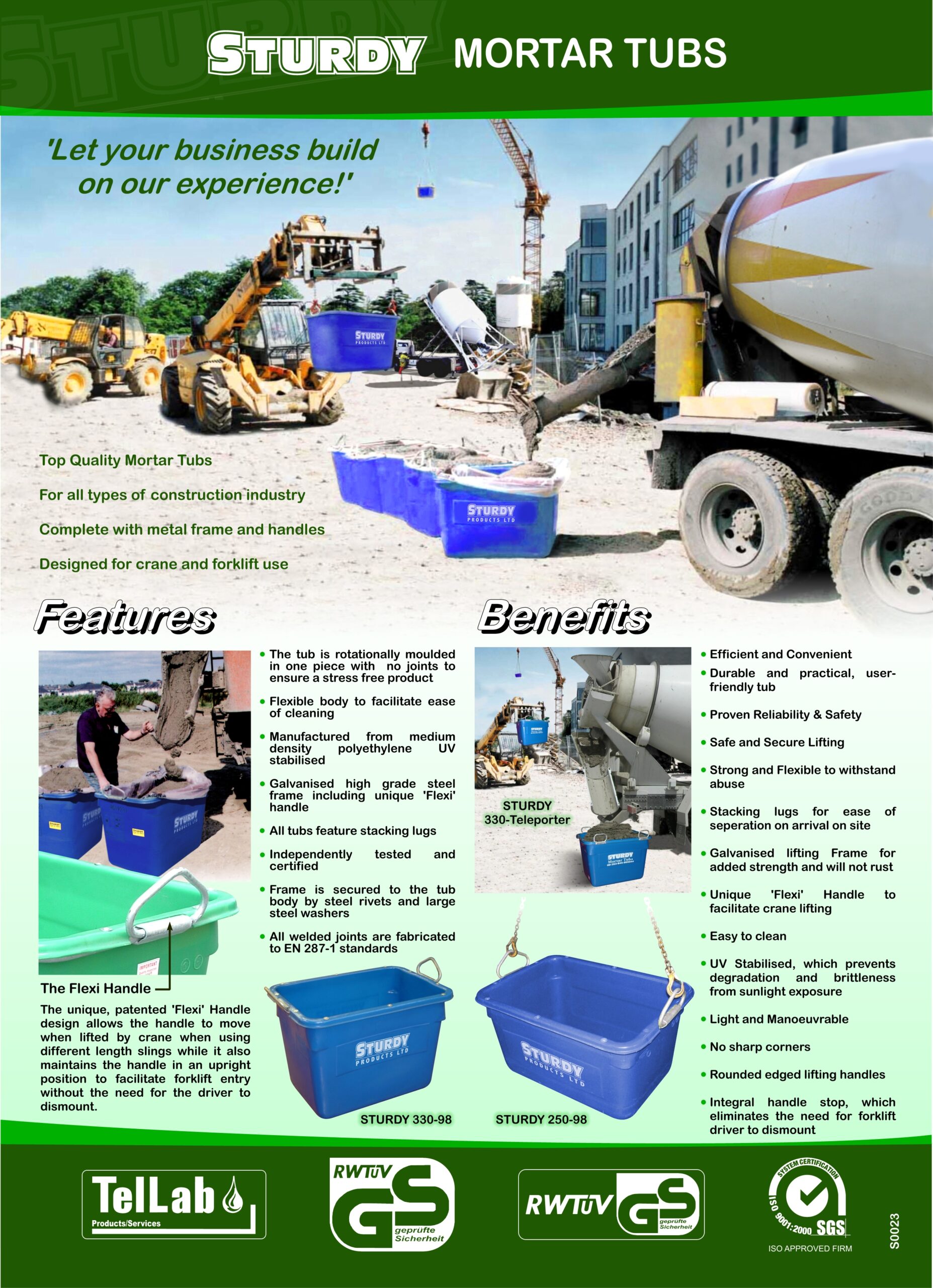 Yes is the simple answer
Transporting large amounts of mortar on a busy construction site is a key cause of concern for health and safety managers. As part of the risk assessment for the transfer of mortar using cranes or teleporters, a review of the mortar tubs' design and durability is necessary. A fully loaded mortar tub lifted by crane or teleporters must be of outstanding quality to eliminate any harm to construction site workers and "Fit for Purpose intended".
Sturdy Mortar Tubs have a strong reputation and a long history of certification and testing, assuring that they are "fit for purpose" for workers working on construction sites and don't affect their health and safety. TUV Nord tests Sturdy Mortar Tubs on a regular basis to ensure their quality and reliability in the construction industry. The Tubs are made of medium density UV stabilized polyethylene and adheres to strict norms and specifications. Stainless Steel rivets and large steel washers connect the Galvanised frame to the mortar tub body. The flexible container body makes cleaning easy.
Features:-
The mortar tubs have a high-quality galvanized steel frame and strong patented "FlexiHandles", suitable for craneable and teleporter applications.
Stacking lugs keep the mortar tubs from sticking together while they're stacked and make it easier to separate them when they arrive on site.
A unique serial number is printed to make sure your tub is secure and traceable.
Optional Features:-
Your company name or logo can be silk-printed on the body of the container to help promote your brand.
Essential Safety:
It is a requirement under the Health & Safety Act that each site carry out and maintain on site a Risk Assessment on all Morter Tubs that are lifted on site . Regular inspections by the HSE are carried out to ensure site compliance Sturdy Products are here to help our customers in this regard
We can provide your Safety Manager with a template for your on-site Risk Assessment Procedure. Just ask us to help provide your tailor made procedure.
Contact Mary at sales@sturdyproducts.com if we can help