Strong and Long-Lasting Sturdy Road Guard Barriers
28th Sep 2021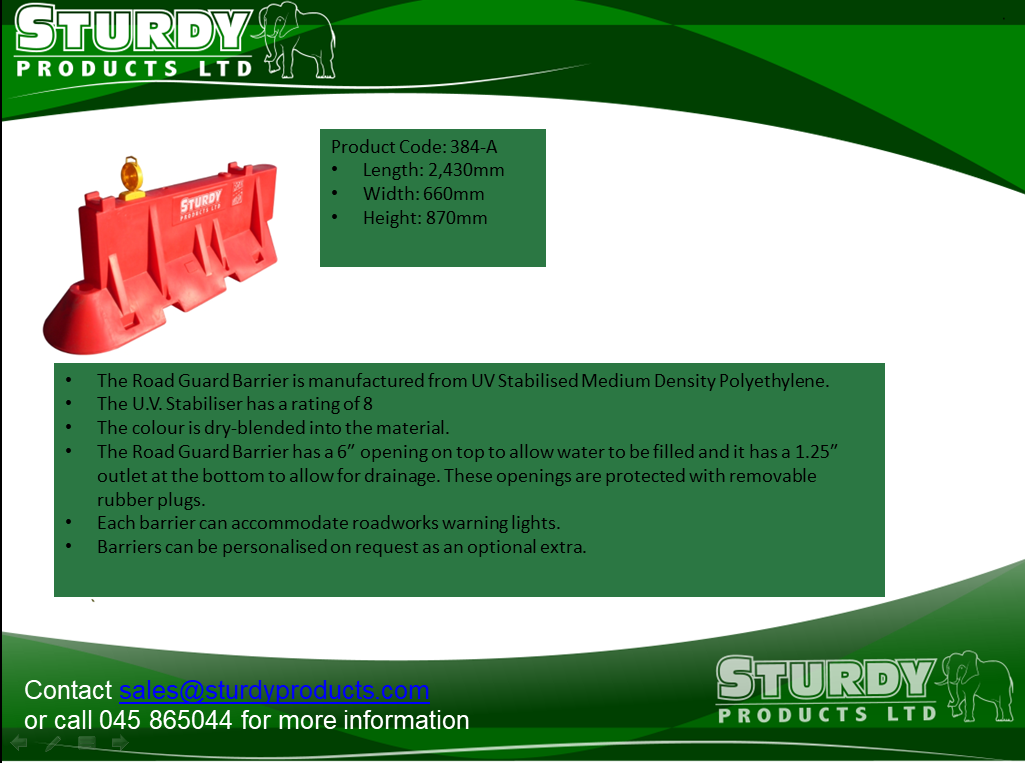 Water-filled barriers seem similar to the concrete traffic barriers seen in highway medians, but they have a distinct purpose. The concrete barriers are long-term constructions that prevent cars from passing through, and are classed as crash barriers. Water-filled barriers or dividers feature an interlocking mechanism that produces a continuous wall their purpose is to direct the flow of traffic and prevent pedestrians from crossing the road, but they are not crash barriers. The sturdy road barriers are constructed in such a manner that they may easily  turned up to 90 degrees  or in curved shapes without gaps between them.
Because road barriers may be relocated without the need of trucks or cranes, they save time and money. It is reusable from one project to the next. The sturdy barriers are stackable, making storage and transit a breeze.
The sturdy road barriers are available in a range of bright colors, making them extremely visible even at night. Motorists could see the barriers from a great way, allowing them to detect roadwork from a safe distance and respond or take other routes as needed. By being available in different colours the barrier can "Stand out" and be noticed  not just appearing as for road works , example at shopping centres to mark taxi areas or airports to direct traffic and pedestrians "airside"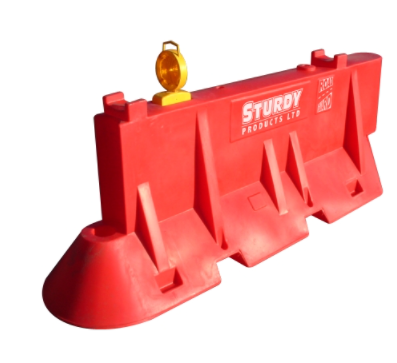 The Sturdy Road Guard Barrier is the ultimate of simplicity of use and functionality. It's a more convenient and secure alternative to posts or cones. Because it does not require large lifting equipment, it is also more efficient than concrete or steel barriers. Because of its low centre of gravity, the Road Guard Barrier may be secured in place by filling it with water, or by our clamping system for more permanent locations. The Road Guard Barrier may be secured to asphalt or concrete using a unique clamping method.
Technical Details :
The U.V. Stabiliser has a rating of 8 (i.e. Heat Stabilised, Good Colour Retention, and Long Life Expectancy).
The colour is dry-blended into the material as such various colours can be offered.
The Road Guard Barrier has a 6″ opening on top to allow water to be filled and it has a 1.25″ outlet at the bottom to allow for drainage. These openings are protected with removable rubber plugs.
Each barrier can accommodate roadworks warning lights.
Barriers can be personalised on request as an optional extra.
The standard colours are Red and White but other colours are available on request.
The Road Guard Barrier is manufactured from UV Stabilised Medium Density Polyethylene.
For more details regarding the Sturdy road guard barrier email us on sales@sturdyproducts.com or give us a call on +353 04865044