Check your oil tank now to avoid getting caught out this winter
07th Dec 2022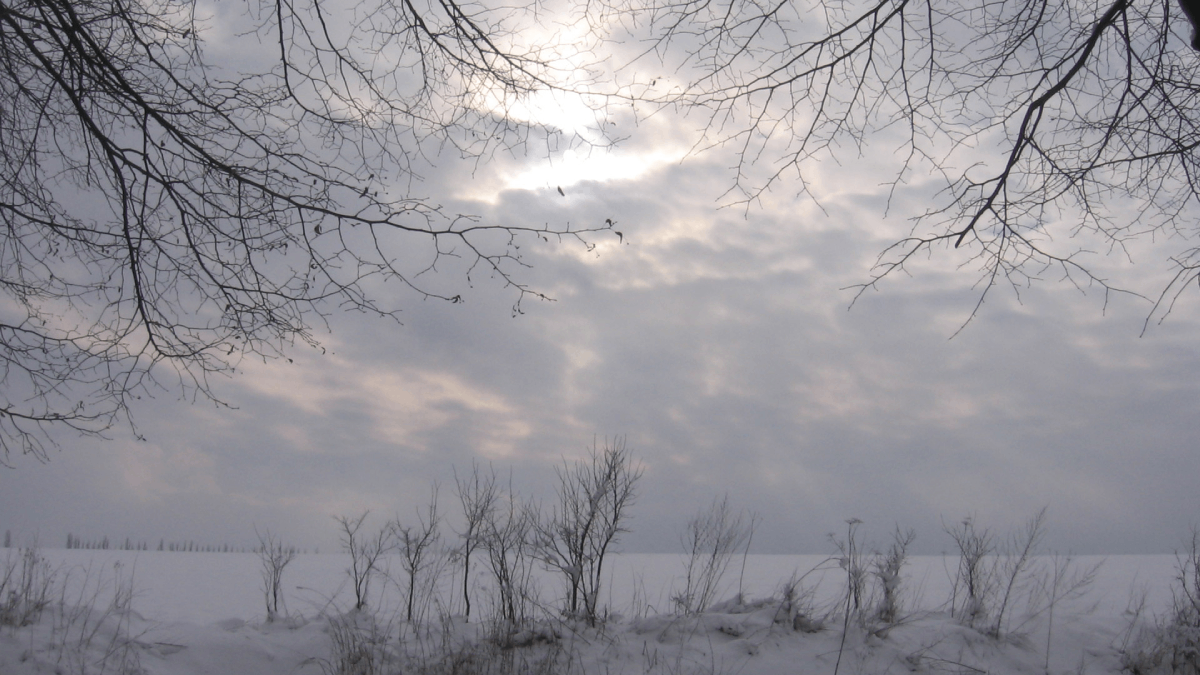 As freezing weather settles in across the country it's important to check your home heating oil tank for signs of damage or potential leaks. Regular inspections of your oil tank are essential for catching leaks before they occur. An unchecked leak can quickly become costly in terms of wasted heating oil, damaging to the local environment, and difficult to clean up. Here are some key points to keep in mind when inspecting your tank.
1. Ensure your tank is installed correctly
Your oil storage tank should be completely supported under its entire width and length. A concrete base or lintel is ideal and should protrude at least 2 inches past the tank on all sides. Without this stable base your tank can be susceptible to stresses that could lead to cracks and leakage. All oil storage tanks produced by Sturdy Products Ltd include directions for correctly siting the unit, moulded directly onto the tank.
Even with a well-laid base, over time the ground around your tank and its base can shift and settle. It's important to check the base of your tank and the ground around it to make sure it remains secure. If you notice any cracks in your concrete base, gaps between the base and the bottom of your tank, or if the tank does not appear to be level, consult with your local registered plumber about conducting a professional inspection.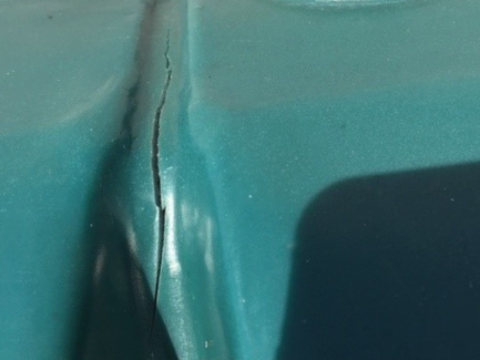 2. Check for signs of leaks
An incorrectly supported tank, long-term exposure to the sun, and repeated changes in temperature can all contribute to cracking in your tank. When inspecting your tank for signs of cracks or leakage, keep an eye out for:
Bulging or wet spots on the tank. Bulging can indicate a point of stress at risk of cracking. A wet spot on an otherwise dry tank body could be oil leaking through a small fracture in the plastic.
Strong oil smells near your tank.
Discolouration on the ground around your tank.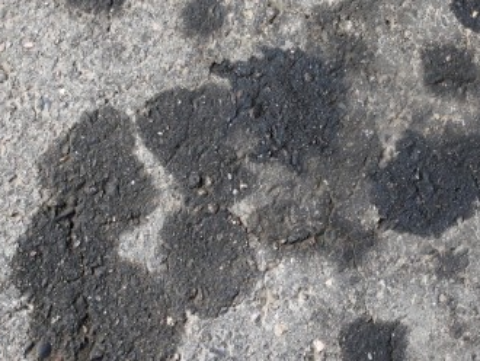 Wet, dripping, or rusting fittings.
The tank emptying sooner than expected. Keep a record of the time elapsed between fillings; if you find that your tank is being refilled more frequently than normal, you may have a leak.
If you experience any of these signs, or if you are unsure, contact your local registered plumber or technician for peace of mind.
3. Check for signs of damage to your tank
If you observe dents or discolouration marks on your tank this could be an indicator of damage and your tank may need to be replaced. Damage can occur from factors such as falling tree branches or collisions from flying debris during extremely windy weather. Check your tank after storms/windy weather, heavy rain, or snow to avoid any unpleasant surprises!
4. Check that your tank lid is securely closed.
A loose or even missing tank lid can allow water to enter the tank and affect the quality of your oil. Check that your tank lid is securely closed – if you are worried about the fit check with your plumber. Here at Sturdy Products Ltd we can supply replacement tank lids for our range of oil storage tanks.
5. Consider investing in a bunded tank for your heating oil storage.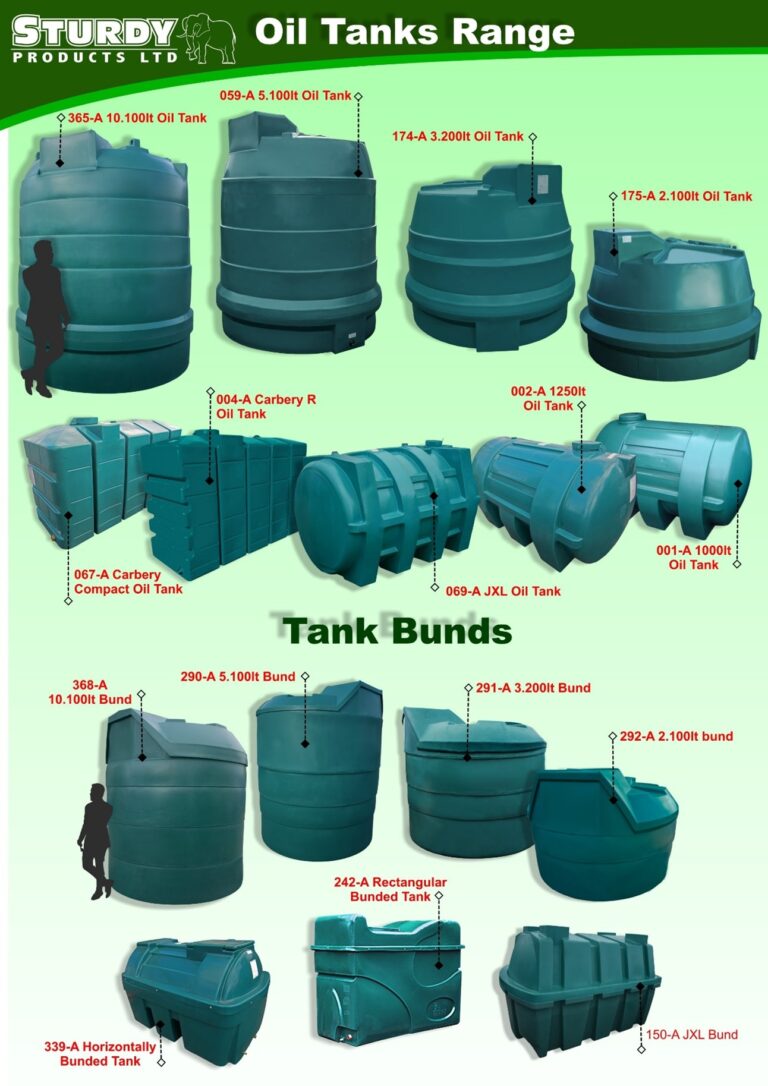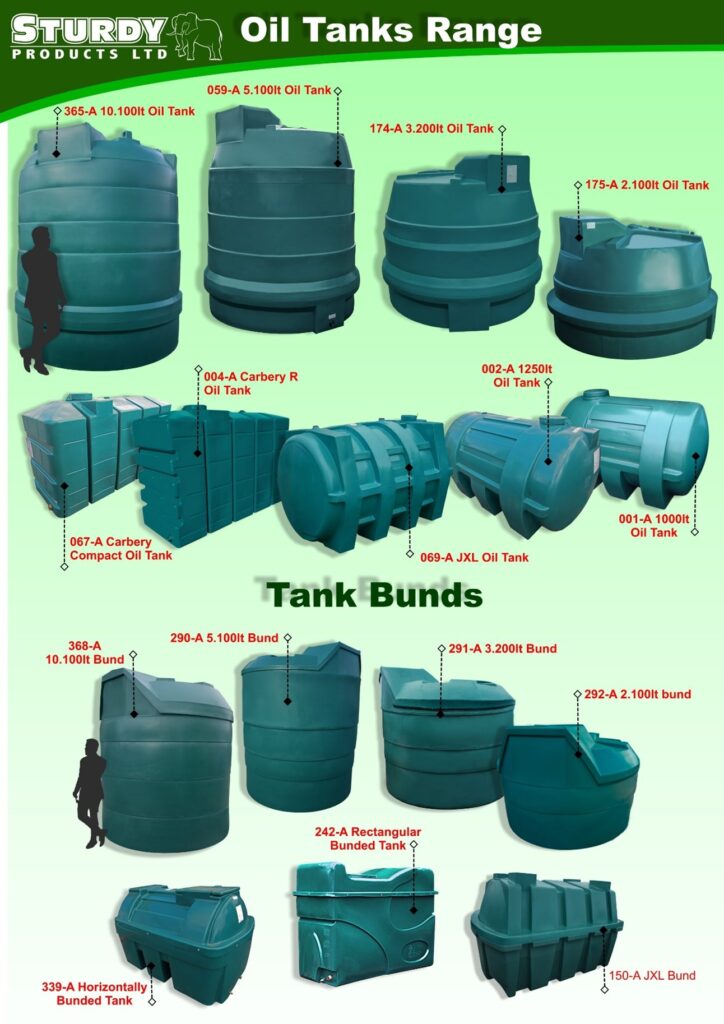 A tank bund is an extra containment measure put in place around a tank that contains diesel, petrol, kerosene or other liquids and is designed to prevent leaks or spillage from the tank into the surrounding environment.
OFTEC, the trade organisation for the liquid fuel heating industry in Ireland and the UK, has advised homeowners that all liquid heating fuel tanks on their property should be bunded to protect the local environment against hazardous leakage or spillages.
While bunded oil tanks will still require regular inspection and maintenance, a bunded oil tank will give you added peace of mind – and help avoid having to pay for a costly cleanup – in the event of an oil leak or spill.
Investing in a high-quality plastic bunded heating oil tank is a wise decision. With one of our Sturdy oil storage tanks, you can safely and effectively store oil, fuel, kerosene, and other liquid heating fuels. Our Bunded Tanks are manufactured to EN 13341 and CEN 266 European Standards.
Our Sturdy range of Bunded and Non-Bunded Oil Tanks are available in multiple capacities, from our space-saving Sturdy Compact 950 liter tank up to 10,100 liters. All our tanks are manufactured from UV stabilized medium density polyethylene (MDPE) which offers excellent resistance to the damaging effects of sunlight and high resistance against impact. Our plastic tanks will never rust or rot and will never require painting.
Sturdy Products has over 40 years of experience supplying homeowners and companies with high quality and long-lasting rotationally moulded products.
If you are looking for safe and secure liquid heating fuel storage options, contact us today and speak to a member of our expert team to learn more or to place an order.